My Blog
Posts for: February, 2014
By Southern Oaks Family Dentistry
February 21, 2014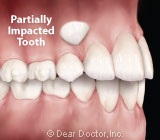 There are only a few teeth that are known by nicknames. The big, late-blooming third molars ("wisdom teeth") are one set; another set is the sharply-pointed canines, also called the "eyeteeth". These two sets of teeth have something else in common: They can both suffer from the failure to develop in the proper place. Impacted wisdom teeth are a well known problem; impacted canines, however, are an issue that's seen less frequently — but can often be effectively treated without extraction (removal).
What does the term "impacted" mean? In dental terminology, it indicates a tooth that is growing in a position where it can't erupt (grow in to the bite) properly. This sometimes happens in cases where the bite is "crowded" — that is, where there isn't enough space in the jaw for all of the teeth to develop properly. An impacted tooth remains "buried" to some extent in the tissues of the gums and jaw. It may eventually cause various problems with the roots of neighboring teeth, or even form a cyst (fluid-filled sac). That's why treatment of impacted teeth is so important.
Impacted third molars (wisdom teeth) are generally removed (extracted), and are rarely missed. Canines, however, are located near the front of the mouth, forming an important component of an aesthetically pleasing smile. Therefore, whenever possible, it's preferable to bring these teeth into good alignment with the rest of the smile rather than remove them. How is this done?
The process begins with a series of radiographic images (x-rays or CT scans) that show the exact positions of the affected teeth. Next, a minor surgical procedure, performed under local anesthesia, is used to expose the crowns (surfaces) of the impacted teeth. Then, a bracket is bonded to the surface of the tooth, which can be attached to orthodontic appliances. These appliances will, in time, move the tooth into a better position.
Impacted canines can be a serious problem — but the good news is that, with the proper treatment, it's often possible to bring them into alignment with the rest of your smile. If you would like more information about treating impacted canine teeth, call our office for a consultation. You can learn more in the Dear Doctor magazine article "Exposing Impacted Canines."
By Southern Oaks Family Dentistry
February 05, 2014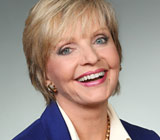 Florence Henderson has inspired generations of people through her portrayal of America's most beloved TV mother, Carol Brady, on one of the longest running situational comedies, The Brady Brunch. Today Florence is still a role model but for a much different audience: senior citizens.
Henderson created the FloH Club as an organization to assist senior citizens with understanding and embracing technology, as she described in an interview with Dear Doctor magazine. "I was inspired to create the FloH Club because of my own fear of technology and because I didn't want to keep asking my children for help," she said.
And while Henderson was blessed with naturally straight teeth and has had no cosmetic work done, she is not opposed to it. "I wouldn't care how old I was, if I had misaligned teeth or felt I needed cosmetic dentistry I would certainly do it!"
One teeth-straightening option many adults consider is clear orthodontic aligners. They are an excellent way for self-conscious adults to align their teeth without feeling that they will appear as an awkward "brace-faced" youth — a look that is commonplace for the teenage years.
But what are clear aligners? They are an alternative system to traditional braces that use a sequence of individual, custom-fitted trays that are clear and removable to gradually straighten teeth. They are usually recommended for correcting mild to moderate spacing problems or crowding of the teeth, and for cases in which there are no major issues with your bite (i.e., your back teeth fit together properly and biting forces are distributed evenly on all of your teeth).
To learn more about this method of aligning teeth, you can continue reading the Dear Doctor magazine article "Clear Orthodontic Aligners." Or you can contact us today to schedule an appointment so that we can conduct a thorough examination and discuss what treatment options will be best for you. And to read the entire interview with Florence Henderson, please see the Dear Doctor article "Florence Henderson."