My Blog
Posts for: January, 2015
By Southern Oaks Family Dentistry
January 28, 2015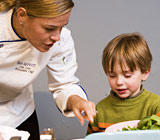 When Cat Cora is not doing battle as the first female chef on the Food Network's hit series Iron Chef America, she is busy caring for the needs of her four active young sons. This includes monitoring the food they eat and their oral hygiene habits.
The busy chef, restaurateur, author, philanthropist and television personality recently revealed in an interview with Dear Doctor magazine that it all started when her four sons were little. She got rid of bottles and sippy cups as soon as possible to prevent tooth decay. She also started exposing her boys to a wide variety of spices and foods when they were infants — for example, by putting cinnamon in their baby cereal. Cat limits the amount of sugar in their diet by using fruit puree in baked goods and BBQ sauces, or the natural sugar substitute Stevia. Furthermore, Cat reports, "my kids have never had fast food."
Cat is right on target with her approach to her children's oral health. In fact, we are often asked, when is the right time to schedule a child's first dental appointment? Our answer surprises some people — especially those expecting their first child.
The ideal time to take your child to the dentist is around age 1. Why so young? A baby's first visit to the dentist sets the stage for lifelong oral health. Besides, tooth decay can start very early. Baby Bottle Tooth Decay (BBTD), as the name suggests, impacts children who often go to sleep sipping a bottle filled with a liquid containing natural or added sugars, such as formula, fruit juice or a fruity drink mix. Another condition, Early Childhood Caries (ECC), is often found in children who continuously use sippy cups (again, filled with sugary liquids), children who breast feed at will throughout the night, children who use a sweetened pacifier, and children who regularly take sugar-based oral medicine to treat chronic illness.
To learn more about this topic, continue reading the Dear Doctor magazine article "Age One Dental Visit." Or you can contact us today to schedule an appointment. And to read the entire interview with Cat Cora, please see the article "Cat Cora."
By Southern Oaks Family Dentistry
January 13, 2015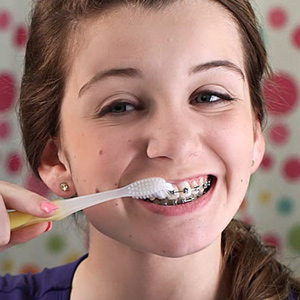 A "perfect storm" of dental disease could be brewing for your teenager undergoing orthodontic treatment. As braces or other appliances complicate hygiene efforts, newly erupted permanent teeth and changing hormone levels could also increase their susceptibility to tooth decay or gum disease.
Here are a few tips for helping your teenager maintain healthy teeth and gums while wearing braces.
Eat a Healthy Diet. Nutrition is a key component in a healthy mouth. Your teenager should eat a diet low in sugar, a key food source for bacteria that cause dental disease, and acidic foods and beverages that cause enamel erosion. Limit between-meal snacks to only a few times a day and drink acidic beverages only at mealtime.
Brush all Tooth and Gum Surfaces. For patients who wear braces, it's important to thoroughly brush above and below the wire running through the affixed brackets. Holding the brush at a 45-degree angle, brush between the wire and gums all the way around both the upper and lower jaws, then repeat the same technique brushing surfaces below the wire.
Clean Between Teeth. Flossing can be difficult while wearing braces, but plaque removal from between teeth is necessary for healthier teeth and gums. Orthodontic patients can benefit from special flossing tools like floss threaders, small interdental brushes or irrigators that remove plaque with sprayed water under pressure.
Incorporate Fluoride into Your Dental Care. A proven decay-fighter, fluoride strengthens enamel against erosion and infection. In addition to hygiene products and many drinking water systems, we can also supplement fluoride through gels or varnishes applied to the teeth during office visits, as well as prescription toothpastes or rinses with higher levels of fluoride for patients at higher risk of dental disease.
Use an Antibacterial Mouthrinse. Orthodontic patients with gingivitis (gum inflammation) or other bacterial-induced conditions may benefit from over-the-counter or prescribed antibacterial mouthrinses.
Maintaining an orthodontic patient's teeth and gums can be difficult, but not impossible. A little extra attention — along with regular office cleanings and checkups — will go a long way in preventing dental disease.
If you would like more information on effective oral hygiene while undergoing orthodontic treatment, please contact us or schedule an appointment for a consultation. You can also learn more about this topic by reading the Dear Doctor magazine article "Caring for Teeth During Orthodontic Treatment."