My Blog
Posts for: June, 2017
By Southern Oaks Family Dentistry
June 22, 2017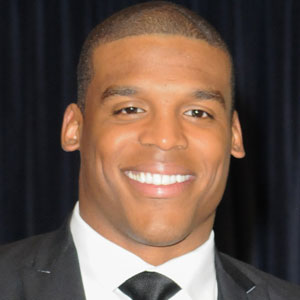 When is the best time to floss your teeth: Morning? Bedtime? How about: whenever and wherever the moment feels right?
For Cam Newton, award-winning NFL quarterback for the Carolina Panthers, the answer is clearly the latter. During the third quarter of the 2016 season-opener between his team and the Denver Broncos, TV cameras focused on Newton as he sat on the bench. The 2015 MVP was clearly seen stretching a string of dental floss between his index fingers and taking care of some dental hygiene business… and thereby creating a minor storm on the internet.
Inappropriate? We don't think so. As dentists, we're always happy when someone comes along to remind people how important it is to floss. And when that person has a million-dollar smile like Cam Newton's — so much the better.
Of course, there has been a lot of discussion lately about flossing. News outlets have gleefully reported that there's a lack of hard evidence at present to show that flossing is effective. But we would like to point out that, as the saying goes, "Absence of evidence is not evidence of absence." There are a number of reasons why health care organizations like the American Dental Association (ADA) still firmly recommend daily flossing. Here are a few:
It's well established that when plaque is allowed to build up on teeth, tooth decay and gum disease are bound to follow.
A tooth brush does a good job of cleaning most tooth surfaces, but it can't reach into spaces between teeth.
Cleaning between teeth (interdental cleaning) has been shown to remove plaque and food debris from these hard-to-reach spaces.
Dental floss isn't the only method for interdental cleaning… but it is recognized by dentists as the best way, and is an excellent method for doing this at home — or anywhere else!
Whether you use dental floss or another type of interdental cleaner is up to you. But the ADA stands by its recommendations for maintaining good oral health: Brush twice a day for two minutes with fluoride toothpaste; visit your dentist regularly for professional cleanings and checkups; and clean between teeth once a day with an interdental cleaner like floss. It doesn't matter if you do it in your own home, or on the sidelines of an NFL game… as long as you do it!
If you would like more information about flossing and oral hygiene, contact us or schedule an appointment for a consultation.
By Southern Oaks Family Dentistry
June 07, 2017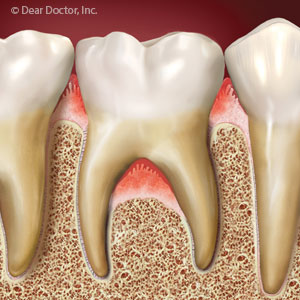 Many people learn they have periodontal (gum) disease after noticing gum swelling, soreness or bleeding. But what you can see or feel may be only the tip of the iceberg — the damage may extend much deeper.
Gum disease is caused mainly by dental plaque, a thin film of bacteria and food particles built up on teeth due to ineffective brushing and flossing. Infection of the visible gums is only the beginning — left untreated, it can advance well below the gum line and even infect supporting bone.
One critical concern in this regard is the areas where the roots of a tooth separate from each other, known as furcations. Here an infection known as a furcation invasion can cause the bone to weaken and dissolve.
This usually occurs in stages (or classes) we can detect through manual probing and/or with x-rays. In the earliest stage, Class I, we might only notice a slight pocket in the gums with no significant bone loss. In Class II, though, the pocket between the roots has become a horizontal opening of two or more millimeters, indicating definite bone loss with increased pocket depth getting "under" the crown of the tooth. Class III, the last and most serious stage, describes an opening we can probe under the crown all the way to the other side of the tooth; the bone loss now extends "through and through" the furcation.
The basic goal of gum disease treatment is to remove plaque and calculus (tartar) from all tooth and gum surfaces. But removing plaque below the gum line, especially "into" the furcations, can be challenging. We will need instruments called scalers to clean root surfaces, assisted sometimes by ultrasonic equipment to vibrate plaque loose. With furcations we may also need to employ surgery to aid gum or bone tissue regeneration or to make the area easier to access for future cleaning.
Of course, the best way to protect against furcation invasions is to prevent gum disease in the first place. Be sure to brush and floss daily and visit us for thorough dental cleanings and checkups at least every six months.
And don't delay contacting us if you see any signs of teeth or gum problems. The sooner we can identify gum disease, the more likely we'll be able to prevent it from doing serious damage to your gums, bone and teeth.
If you would like more information on treating gum disease, please contact us or schedule an appointment for a consultation. You can also learn more about this topic by reading the Dear Doctor magazine article "What are Furcations?"