Tooth-Healthy Tips for a Summer Barbecue
By Southern Oaks Family Dentistry
August 29, 2017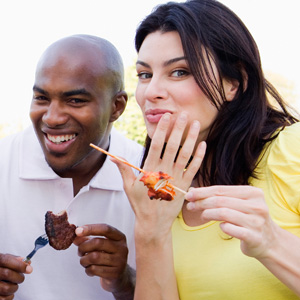 It's time to fire up the grill. So how about some tooth-healthy tips for a summer barbecue that will leave your belly satisfied and your teeth intact?
Appetizers: Starting with appetizers, mind the chips. Tortilla chips can get lodged beneath your gums, potentially causing an abscess. Potato chips can stick to your teeth and invite decay-causing bacteria. How about a cheese or veggie platter instead? Cheese keeps tooth enamel strong, and raw vegetables will scrub your teeth clean.
Main course: When it comes to meat with bones, like barbecued ribs or chicken drumsticks, bite carefully. Don't chew on the bones. Be especially cautious if you have any large fillings or porcelain veneers.
Beverages: Avoid soda and lemonade. The dangerous duo of acid plus sugar in these drinks is the ideal formula for tooth decay. Water is the best choice for staying hydrated. Plus, it washes away debris in your mouth and helps neutralize the acid from food.
After the meal: Need a toothpick? Watch out. They can act like miniature swords, piercing the gums. And wooden toothpicks might splinter, leaving an embedded fragment in your gums. So never leave home without your own supply of dental floss or flexible plastic toothpicks.
Keep summer gatherings fun by making tooth-healthy choices and avoiding dental mishaps. If you have any questions, please contact us or schedule an appointment for a consultation.